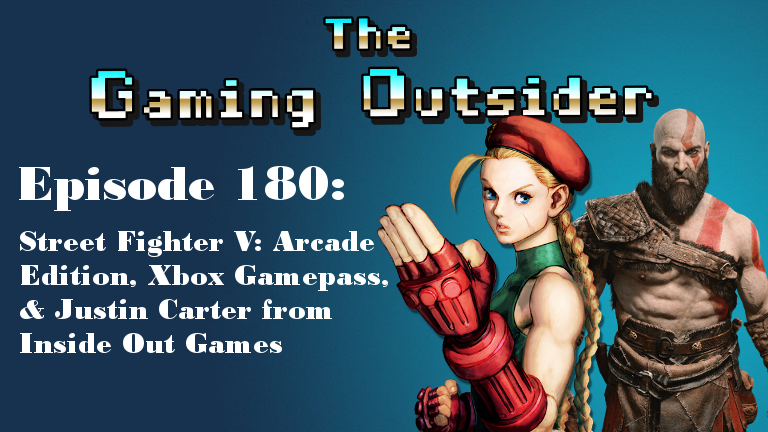 This week on the show, we welcome Justin Carter from Inside Out Games to discuss his experiences as an indie game dev and his latest project. We also welcome back Robby Steltenpohl to the show, who will return to fill the forth seat going forward once more. It's a jam packed episode and we have lots to talk about!
In news this week, we discuss God of War's release date finally being announced along with a brand new story trailer. Microsoft drops a bomb with a big GamePass announcement. Bioware pushes back the release of Anthem in hopes of avoid a Battlefront II situation. Also, a crack team of great developers form together to create a new Avengers game.
Discussed on this episode of The Gaming Outsider Podcast:
(0:00 – 15:45) Welcome/Introduction
(15:46 – 52:18) News
(52:19 – 1:10:25) What has JUSTIN been playing? ("Doki Doki Literature Club", "The Beginner's Guide", "The Witness", "The Binding of Isaac")
(1:20:26 – 1:21:52) What has ROBBY been playing? ("Nioh", "Tesla vs. Lovecraft")
(1:21:53 – 1:40:07) What has JOSH been playing? ("The Vanishing of Ethan Carter", "Street Fighter V")
(1:40:08 – 1:47:12) What has SCOTT been playing? ("Azkend 2")
(1:47:13 – 2:11:13) "From the Outside In" Topic: Indie Game Development
Grab the episode now via iTunes, Spotify, Google Play Music, iHeartRadio and more.
Don't forget to check us out on Patreon as well to help support the show and score some sweet bonuses, like early access to our Doki Doki Literature Club spoilercast and a chance to win a copy of Monster Hunter World and Dragonball FighterZ.
Thanks and enjoy the show!